17TH JAN 2016
Protective Laminate Coating
Our canvases come with a protective laminate coating applied as standard. This provides waterproof and scratch-proof surface with ultra violet protection of up to two-hundred years.

Laminate Protection
A laminate is applied to all of our canvas products, all part of our 'premium as standard' service. This has a number of benefits which we will talk about in more detail below. The main features of the laminate coating are to provide a waterproof and scratch-proof surface with UV protection of up to 200 years ensuring the colours in your image won't fade.
Waterproof Surface
The laminate creates a totally sealed and waterproof coating from the front of the canvas. This means any splashes can be easily wiped off and the ink will not run as a result of this. Please be aware that the canvas is not laminated on the back.
Scratch-Proof Surface
The laminate creates a durable seal which will minimise damage to the canvas if it receives light scratches or bumps.
200 Year UV Protection
The laminate we apply to our canvases comes with a 200-year ultraviolet protection guarantee. This means that the colours in your images will stay vibrant and will not fade during this time, regardless of where they are placed in your home/studio.
Washable/Wipeable Surface
The laminate coating can be wiped clean from the front of the canvas with a slightly damp cloth and remove any splashes or marks. This will not affect the image on the canvas. Please wipe clean with a dry cloth afterwards.
Our 10-Year and Lifetime Guarantee
We are proud to offer a 10-year guarantee on our 20mm canvases and a lifetime guarantee on our 38mm canvases. For more information about the guarantee we offer on our products, please click here.
Thank you for reading.
– The Trade Canvas Print Team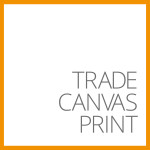 REQUEST A POCKET SAMPLE BOOKLET

Please fill in the form correctly and try again.

Thank you, your message has been sent.